Does Your Web Design Need a Makeover?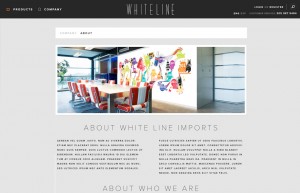 When was the last time you updated your web design? The New Year is always a good time to make changes and there are several web design trends expected to increase in popularity for the upcoming year, making now a great time to update your old design. Technology is always changing and businesses need to keep up with the times or they're going to be left behind.
Updating your company's website when needed says a lot about your business. For example, visitors see that your company is familiar with the latest technologies and trends, so they expect the same from your products. This encourages users to stick around and look through your pages to learn more about you and the products or services you have to offer.
Having an updated web design also creates a positive image for your company because you're making changes to ensure your customers have the best online experience possible and that shows you care. Consumers want to feel like they are important to the companies they do business with. Updating an old web design can help make your site stand out as one that works hard to give consumers what they want and that will give you an edge over the competition.
Web Design Trends for 2014
One of the main design trends for the New Year includes simplicity. Designers are creating simpler, easier to maneuver websites because this is what research shows users want. This means that many of the features that you've gotten used to seeing over the last few years will slowly fade away. Anything that doesn't serve a real purpose will be eliminated from web designs. As a result, it will take away some of the clutter that makes it hard to focus and greatly enhance user experience.
You can also expect infographics to be on the rise but with a change. The standards for the content will be set higher than what you've seen in the past. Don't be surprised if you begin seeing an increase in interactive infographics, as well. Other 2014 trends include an increase in the number of websites that use the Flat Design, Parallax Scrolling and Responsive Design.
Updating Your Web Design Does Affect Sales
One of the main reasons that you need to keep your web design updated is because the needs of the customer changes constantly and you need to keep up with consumer demands. When users visit your site, they expect to be greeted with an updated, user-friendly design that makes it easy for them to maneuver through the pages.
If they're greeted with a design that was popular a few years ago instead, they won't be impressed. In fact, they may view your company as old and outdated and look for one with fresh, new ideas instead. It won't matter that you have the best quality products for the lowest prices because many visitors will leave before checking out your merchandise.
You only have one chance to make a good impression and giving your web design a makeover to enhance user experience is a great way to stand out in a good way. It can increase traffic to your site and enhance sales.