2012 Web Design Trends That Will Carry to 2013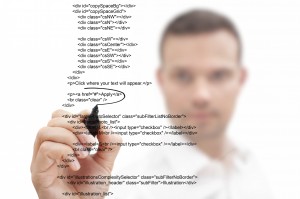 As another year ends, we see some interesting web design trends that will likely carry on into 2013 as well. It's been a year of changes with Penguins and Pandas, new search algorithms, growth of social media and big changes for mobile viewing. We are seeing previously popular trends go by the wayside, with some dying completely and we see the paths being paved with new ideas and designs.
Let's take a look at some 2012 web design trends that are here to stay- at least for another year.
Responsive Web Design
There will soon be a day when we will not hear the phrase "responsive web design" anymore because it's going to be the norm. With more people using mobile devices and more devices being made in different sizes with varying screen sizes, we have a greater need for responsive web design, a feature that basically allows your website to auto-resize according to the device the viewer is using. No longer do you need to create a different website for mobile viewing from desktop viewing. With a response web design, it will shift according to the needs of the device. All you need is one simple design. In years to come, we will see responsive web design becoming the standard.
Vector Art
Those cartoons and brand characters are fun, creative, cute and memorable. More and more sites are taking on larger vector art and images as part of their website design and branding. This is a great way to boost brand awareness and to bring a bit more art into the previous business-like designs that were the norm. This is a trend that I really want to continue to see more of in the future. It really brings the design into the website. Can you think of any brands with great vector art integrated into their websites?
Fixed-Position Navigation
Fixed-position navigation is not new but it is growing more in 2012 and we expect to see if continue in 2013. This is great for sites that don't have a lot of links and it allows you to keep them visible to each user at all times. It improves website performance and the user experience. This basically means that the nav bar will remain in place while the user scrolls through the content. This gives a nice, clean look to the website and helps the user get the most from their experience as well.
Social Media Integration
Social media is more important than ever before to brand awareness, SEO and brand authority and reputation. Nearly every new or updated website today will have social media integration with social share buttons. We suspect there will soon be a day when every website will have social integration because Internet users place such importance on finding and sharing their digital media in this format.
Simple, Clean Designs
Another trend that's not really new but that is taking on more popularity is simpler, clean designs that focus less on making things look pretty and more on the content itself. These simpler designs are friendlier to the users and also help your SEO since there is typically less coding to get in the way and potentially create an issue with the search engine bots.
These are just a few web design trends we're seeing in 2012 that we think will carry on over to the New Year. Do you have some of your own to add to the list?